Accommodation for groups under the Klínovec mountian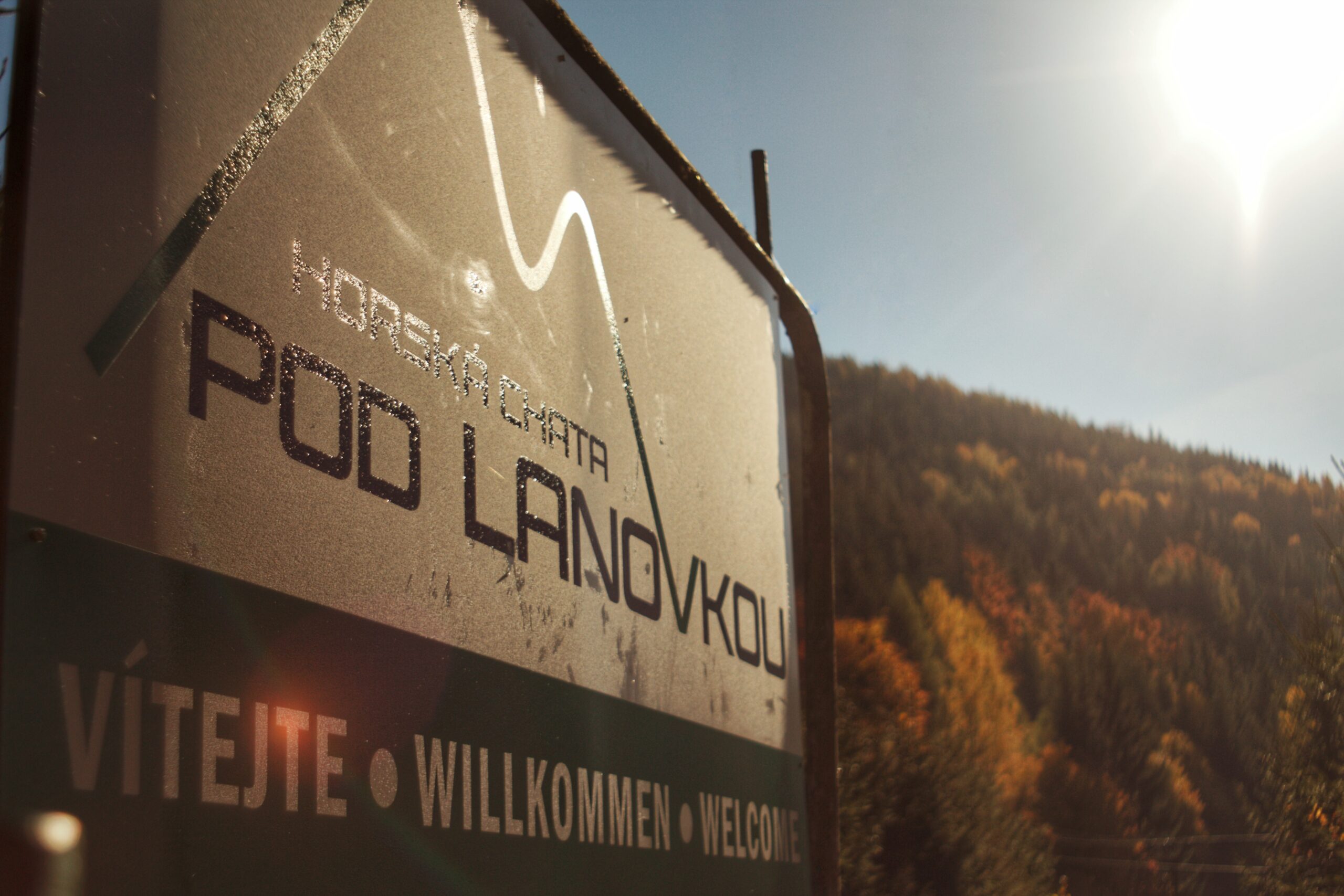 The lodge-house is ideal place for outdoor sports, bycicle and backpacking trips, skiing, downhill cyclinglovers. It is located in the middle of the forest in the peaceful and beautiful valley right under the Klínovec mountain, the highest mountain of Krušné hory mountains, with the largest Ski Resort in Krušné hory. Just 5 minutes by car or a short walk you can reach either the Radon Spa Jáchymov, or the cable station of the Klínovec Ski Areal, Klínovec Trail Park.
Thanks to its location and amenities, the mountain house is ideal place for families with children, family celebrations, healing stays, corporate parties, teambuildings or group holiday. Large social space allows plenty of indoor activities if wheather is not on your side.
The house in fully equiped with unusually large joint area (kitchen m², storage space for skiis and bicycles, dinning area and playing room 120 m²).
On the ground floor you can find dinning area with a fireplace, playing room, fully equipted kitchen (3 dishwashers, 4 large fridges, freezer, gas stove with electric oven, large gastro-style gas stove, electric grill, dishes, cutlery, pots and pans, etc.), bar area (electric kettle and filtered coffee machine) and playing room (pool table, table fooball, board games and ping-pong table.)
Storage room for skiis and bicycles is also located on the ground floor.
WIFI/ TV
We offer for rent a tap equipment LINDR PYGMY 25/K which you can use for tapping a perfectly cold and fresh draft beer and other beverages. A single-tap device is equipped with an air compressor and  it is able to cool down 25l per hour. That means you can tap 50-70 perfectly cold beers in one hour. We rent this equipment with a "Bajonet" type coupler (also known as a S-Type, Korg). Please verify the coupler type before buying a KEG. These Czech brands typically uses Bajonet style coupler:  Budweiser Budvar (Pardál), Samson Brewery, Pilsner Urquell, Gambrinus, Radegast Brewery, Velkopopovický Kozel (only 10°). Is necessary to return the tap equipment clean and flushed using tap water. Special flushing equipment is available. Operation manual and cleaning procedure is available to watch here and here.
Our lodge-house offers 12 rooms for total of 38 people.
12 rooms with 2-4 beds
4x room with en-suite bathroom
4x family apartment (2 rooms) with shared bathroom – ideal for family with children
9x WC, groungfloor is wheelchair accessible including WC for disabled, 8x shower
Central heating – managed by owner
Paved driveway accessible also in winter season. Parking is adjescent to the lodge-house
You can prepare your dinner/lunch in the spacious fully equipped kitchen or visit one of the restaurants in the town.
Winter Season from 16.9. to 31.5.
Week - 79 000 CZK
Weekend - 45 000 CZK
New year's Eve week - 145 000 CZK
year 2023 - New Year's week in the mountians for 38 person by ski slopes and by Radon Spas 27.12-1.1.2024 (with check-out until 18 pm)
Christmas Week - 120 000 CZK
Christmas Week is from 22.12. to 26.12.
For different dates of your stay in the Festive Season, we offer custom pricing.
Christmas tree and decorations are included in the price.
Spring Holidays - 79 000 CZK
the price is for one week from Saturday to Saturday.
Easter Holidays - 120 000 CZK
28.3. - 1.4.2024 The date may be arranged individually.
Summer Season from 1.6. to 15.9.
Week price - 69 000 CZK
Weekend price (2 nights) - 39 000 CZK
Cancelation of booking is possible 60 days prior to arrival date – deposit will be fully refunded. New Year's Eve week – 90 days prior to arrival date
Booking cancelation later than 60 days and up to 30 days prior to arrival – 50% of deposit will be refunded. New Year's Eve week cancelation up to 60 days prior to arrival – 50% of deposit will be refunded
Booking cancelation less than 30 days prior arrival – no refunds of the deposit. New Year's Eve stay – less than 60 days.
Weekend stay – check-in on Friday after 2PM, check-out on Sunday by 2PM
Week stay – check-in on Saturday after 4PM, check-out on next Saturday by 10AM
Prices quoted are for accomodation and exclude electricity consumption (supplier prices valid at time of stay, no more than 9 CZK per kWh) and the municipal tourism fee – 35 CZK/adult/day.
The city fee is paid on the day of arrival according to the number of guests.
We reserve the right to change pricing during the year depending on the current inflation rate.
Bed sheets and towles are provided according to the number of accommodated persons.
Pets are allowed for additional fee of 250 CZK per pet per day. Pets needs to have their own bed and be supervised all the time.
Beer set – tap + glass rinser – possible to rent for 500 CZK/weekend or 1000 CZK/week.
Firewood consumption – 3000 CZK per 1m3.
By check out, house must be in the same condition as it was by check in.
Booking is only valid and confirmed after 50% deposit is paid. Rest of the price must be payed no later than 7 days prior to arrival.
For the weekend stays – you can add more nights, feel free to contact us for the price.
Additional deposit of 15 000 CZK will be withheld for possible damages upon arrival. Damages, losses or contamination that require deep cleaning will be deducted from this deposit. In case of late check out ( 2 hours post check out time) without prior approval by owners, deposit will not be returned.
Klínovec Ski Areal
The Klínovec Ski Areal offers the best conditions for skiing and snowboarding in Krušné hory Mountains. Our lodge-house is located in close vicinity of the Ski Areal. Lower station of a cableway is only 1km from our house.
In the Klínovec Ski Areal you can find 4 cable cars and 7 ski lifts. Ski Areal is also prepared for snowboarders. In the lower section of the areal you can find a snowpark with many different kickers, ramps, etc.
Klínovec Ski Areal is part of a Interskiregion with 2 other ski resorts Oberwiesenthal and Fichtelberg in Germany. So if you buy at least 1.5-day ski pass, you can enjoy 47km of ski slopes in all 3 ski resorts. Transportation between those is provided for free.
For children, there is a child ski park where you can hire an experienced ski instructor. There is also a free parking, ski rentals, ski schools and restaurants in the areal.
Ski bus stop is located right by our house and it will take you to the lower station of Prima Express Cableway.
For more information and ski passes visit www.klinovec.cz
Klínovec Trailpark
Start on the top of Klínovec Mountain and take one of 4 different trails with different difficulties. All trails leads to the lower station of Prima Express Cableway. Cableway will then take you back on the top with your bicycle. The easiest trail is also suitable for children and beginners.
Klínovec Trail Park is a network of trails for mountain bikes served by 4-seat cableway. It offers 30 km of trails with different difficulties and 70 km of marked forest paths. The Klínovec Mountain is specific with long flowtrails - Azur (10.3 km), Rubin (8km) and Baron (6km).
If you are beginner or experienced rider, if you are looking for well-maintained trails, Klínovec Trail Park is the right choice for you.
During your visit, you can refresh yourself in "U staré lanovky" restaurant or restaurant by the lower cableway station. Bike rental, shop, bike service, bike washing station, showers and free parking is also available.
For more information visit www.trailpark.cz
More Ski Resorts
Ski areál Fichtelberg
Ski resort not far from a Klínovec mountain. 18km of ski slopes a the oldest cableway in Germany. It is part of a Interskiregion.
For more information visit www.fichtelberg-ski.de
Ski areál Jáchymov střed
3 ski slopes (700m, 900m, 1200m), ski lift 700m, free parking.
For more information visit www.jachymovstred.cz
Ski areál Novako Boží Dar
Located in 1024m above the sea level in town center. This ski slope with two ski lifts (300m, 220m) is suitable especially for families with children and beginners. Ski rental, ski school, ski park for kids, restaurant, shop with ski apparel are also available. In this resort you can try snowtubing - ride on inflatable rings.
For more information visit www.novako-ski.cz
Ski areál Neklid Boží Dar
Right next to Boží Dar town, 6 ski lifts (300-1000m). Two of the ski slopes are illuminated. Fun park for snowboarders "VEHICLE NITRO SNOW PARK NEKLID" is also available.
For more information visit www.neklidsnow.com
Ski areál Náprava Nové Město
7 ski slopes with different difficulties in total of 4km. Night skiing, free parking, ski school.
Ski areál Nad nádražím Pernink
Ski slope 560m long. Parking 100m from ski lift.
For more information visit www.skiarealpernink.cz
Ski areál Pod nádražím Pernink
500m from Pernink town. Kid ski park, 3 ski lifts (250m, 300m, 700m), night skiing, ski school.
For more information visit www.pernink.info
Ski Nové Hamry
4 ski lifts and 1 children lift. Night skiing.
For more information visit www.skihamry.cz
Cross-country Skiing
Boží Dar, thanks to its elevated location, has one big advantage. It is an early snow. I the surroundings of Boží Dar you can do cross-country skiing on well-tended routes at the time, when other ski resorts are just preparing for a winter season. At this part of Krušné Hory you can use more than 120 km of cross-country skiing routes. If czech routes is not enough for you, you can cross the border to Germany.
Click here for updated conditions of cross-country skiing routes
Aquacentrum Agricola
In the town center of Jáchymov you can find Agricola Aquacenter. It has two 25m pools for swimmers with water temperature around 28°C. For kids, there is separate pool and super fast water slide.
For those, who prefer warmer water and bit of relax, there is a rehabilitation pool with water temperature around 32°C. Also two whirlpools with 35°C water are available.
Part of a Agricola Aquacenter is also a sauna world, salt chamber and a fitcenter.
For more information about Agricola Aquacenter visit www.laznejachymov.cz/Agricola/
Radon Spa Jáchymov
Radon Spa Jáchymov is located only 1.5 km from our house. Thanks to the healing effects of radon water is suitable for treating diseases of musculoskeletal system (arthrosis, rheumatism, ankylosing spondylitis), variety of injuries or neural system diseases.
Radon Spa Jáchymov is only spa with radon water in Czech republic. Springs contains the highest amount of radon per 1 liter in the world.
Treatments:
Radon bath fights against stress and has positive effects on whole organism.
Rehabilitation - physical therapy for better body movement and stretching.
Massages (massage with lava stones, lymphatic massage, hang massage) relief your muscles, better function of lymphatic system, etc.
Water treatment for relaxation.
Acupuncture traditional Chinese medicine. Brachyradiumtherapy ("Jáchymov Boxes") - this unique treatment is good for chronic pains which cannot be treated with normal painkillers.
For more information visit www.laznejachymov.cz
Hiking
The lodge house surrounding is ideal also for hiking. You can choose between many hiking routes marked in color (blue, green, yellow and red).
If you are coming from Prague, set your GPS maps to this address: Bratrstvi 53, Jachymov
Best way from Prague is, if you choose to go via Karlovy Vary or Chomutov.
By bus from Prague
Prague, Bus Station Florenc – Jáchymov, Lázně
Prague, Bus Station Florenc – Karlovy Vary (FlixBus, RegioJet)
By bus from Karlovy Vary
Karlovy Vary, tržnice – Jáchymov, lázně